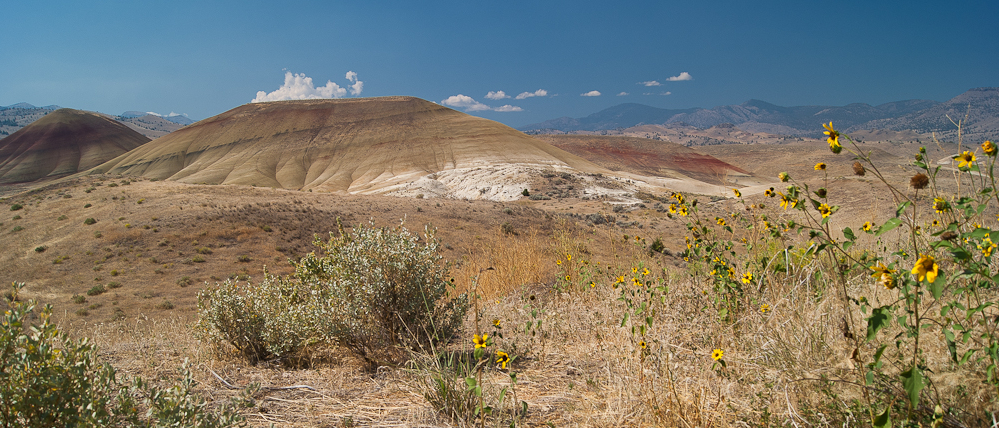 Another no-beer day, but this one was somewhat needed to average out the Bend Beer Extravaganza, during which we visited 5 microbreweries and one distillery in 10 hours.
We got an early start from Bend, and headed up to Mitchell to visit Julie, a scientist working in the area, and see the Painted Hills unit of the John Day Fossil Beds National Monument.
Mitchell is a cute little town, and is one of those places where everyone knows each other (watch out for the cop, he sits at the bottom of the hill heading into town, since his wife works at the espresso stand.)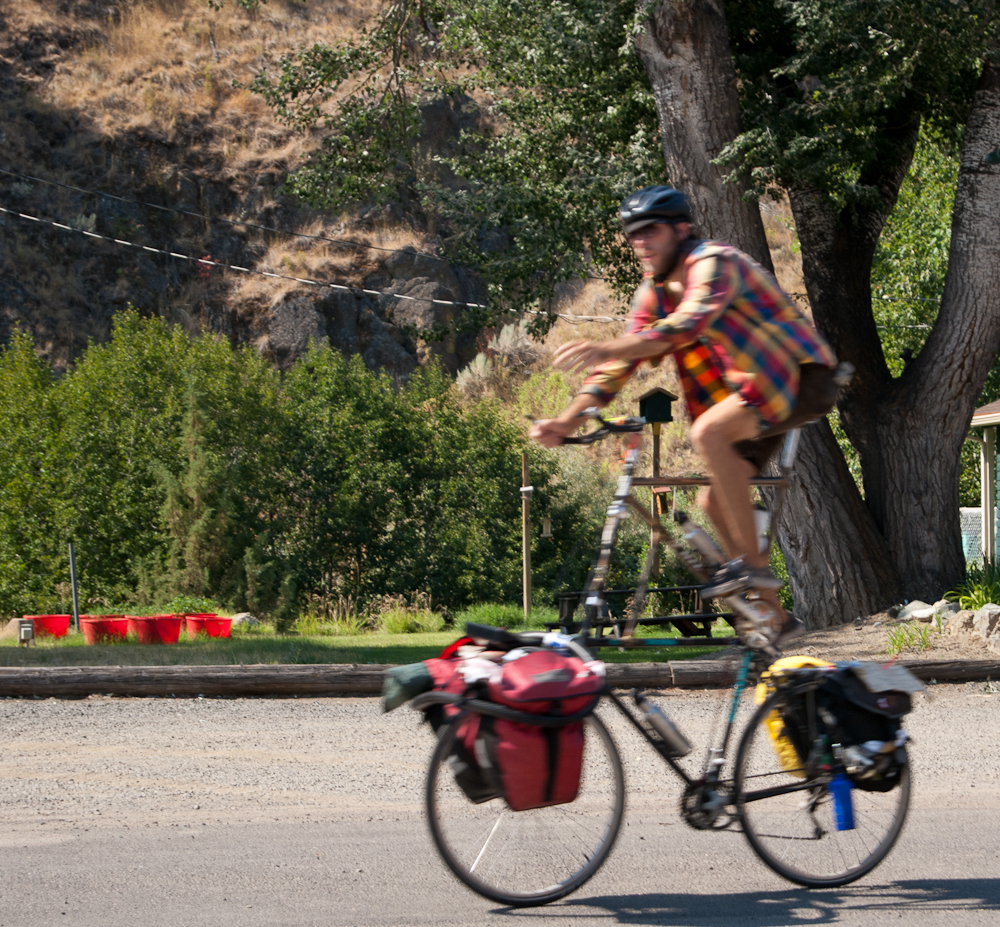 We also passed by a man on a double decker bike. Definitely one of the stranger things we saw. Keep in mind that this is on the road halfway to nowhere – and it was HOT out. We didn't get the best picture, but it's here anyway, since you have to see it to believe it.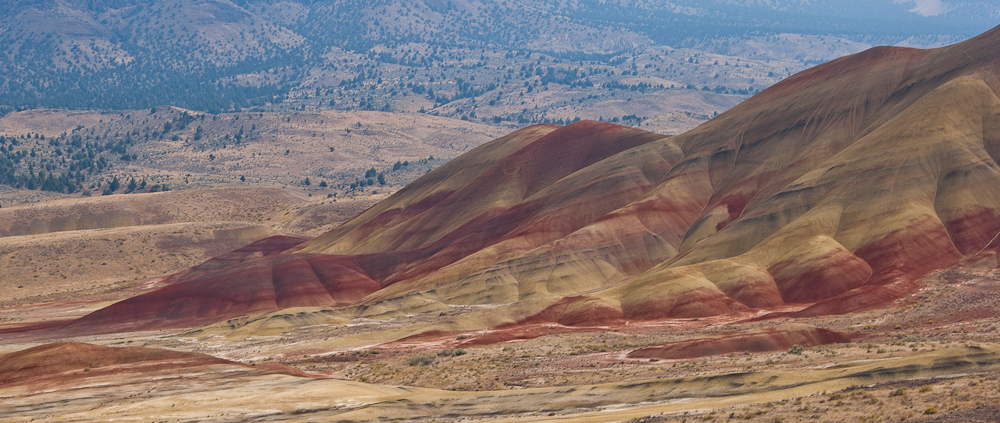 The painted hills were neat to see, but it was upwards of 30 degrees out, so we didn't stay outside for too long. Julie showed us around to the Painted Hills Overlook and the Painted Cove Trail, both definitely worth seeing. The latter has a handful of interpretive signs about how the hills were formed and where the colours are from. There are some longer trails one can take, but we had a schedule to keep, so we wished Julie the best in her research and headed out to the Malheur National Forest to find another yellow cypress population.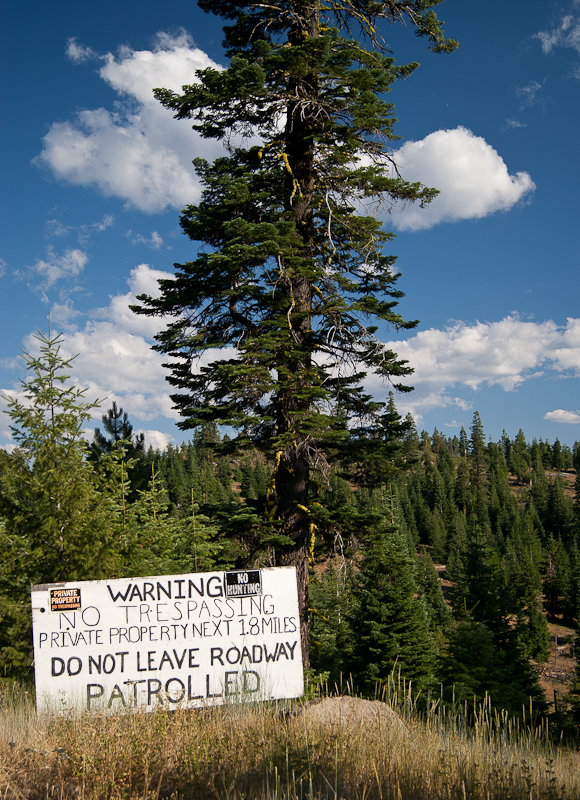 Directions: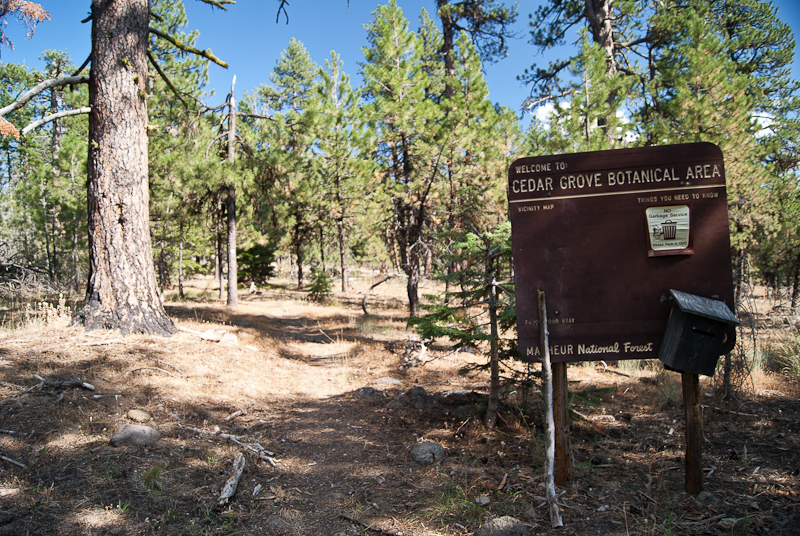 The grove is decently signed. Head south on Forest Service Road 21. After ~9 miles (after passing a horse camp on the right), take a right on Forest Service Road 2150 (the sign will say Cedar Grove xxxx 203A –>). Follow this dirt road for around 6 miles, though the private property, until the trailhead. It's about a 25 minute hike each way, and decends quite a bit on the north face of the mountain.
The cypress population was heavily hit by a forest fire a few years ago, but it looks like there is a lot of natural regeneration. Details are in a separate post, and more photographs are available here.
We camped the night on Phillips Lake, just west of Baker City at Union Creek Campground. It's a really nice campsite, with separate areas for tents, RVs, RVs with hookups, etc. Also, proper bathrooms!